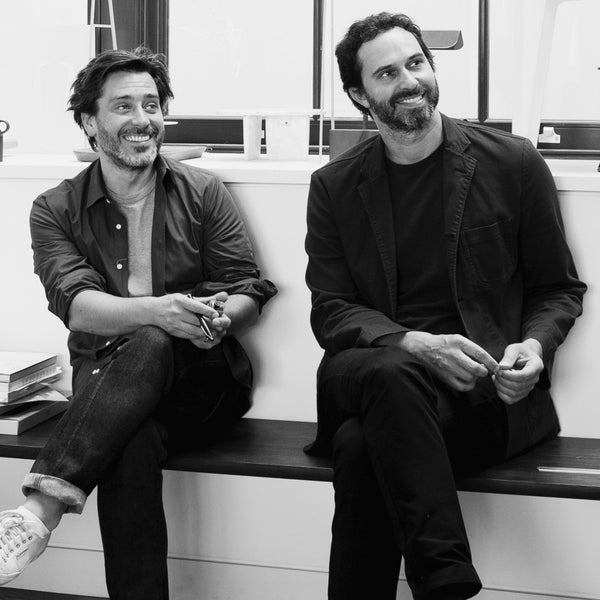 Barber & Osgerby
Edward Barber and Jay Osgerby founded their eponymous studio , Barber & Osgerby, in 1996 after graduating with Master's degrees in Architecture from The Royal College of Art in London. From their first studio in Trellick Tower in London, they designed their first piece, the Loop Table, produced by Isokon in 1997. Much of Barber & Osgerby's early work involved the folding and shaping of sheet material, influenced by the white card that they had used frequently in architectural model making. Plywood and Perspex were used in the development of the Pilot Table, 1999, and Stencil Screen, 2000.
In 2004 the pair were awarded the Jerwood Applied Arts Prize. This led to a commission to design new pieces for the De La Warr Pavilion in Bexhill On Sea. Known for their use of colour, with the limited edition Iris tables, Barber & Osgerby developed a new direction, using colour as the starting point for the work. The same year saw the launch of Tab for Flos, a return to the folded form. In 2009 Barber & Osgerby launched their first major commission for Murano glassmakers Venini which resulted in a series of unique, large-scale glass vases, created in limited editions and shown in Milan, Porto Cervo and London.
2010 saw the creation of an experimental installation for Sony at the Salone Internazionale del Mobile in Milan. Through a series of conceptual objects that exploited Sony's new sound technologies, a perspective was presented for how electronics could be better integrated within contemporary home interiors. Another investigation, this time into school furniture and how dynamic movement in a chair can aid concentration, resulted in the forward-tilting Tip Ton chair launched with Vitra in 2011. The same year, Barber & Osgerby were appointed to design the London 2012 Olympic Torch.